Roof storm damage often comes without warning—get your peace of mind back by following these three simple steps.
Whenever the Houston area receives a visit from a hurricane or heavy rainstorm, roof storm damage isn't far behind. Most property owners find themselves dealing with leaking roofs, broken skylights, cracked or missing shingles, and various other problems.
Roof storm damage usually comes in the form of leaks and water spots that will ruin all the upper levels of your house if they're left unchecked. It's essential to take action quickly when you suspect your home has storm damage. There can be other serious issues like mold growth or electrical problems after prolonged exposure to water and humidity.
This article will outline some common types of roof storm damage and provide you with the needed steps if you suspect your home suffers from roof storm damage.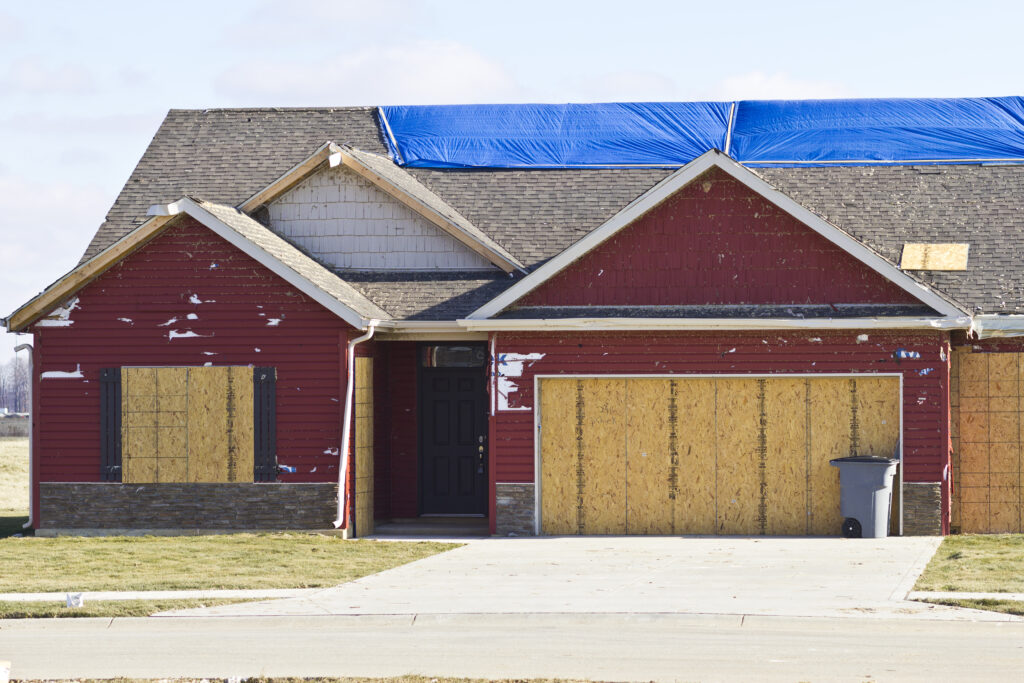 Causes of roof storm damage
This article is about the roof damage resulting from storms. But what exactly are the causes?
High winds can pull up or rip apart shingles, leaving the layers beneath susceptible to water. Space developing between shingles compromises their waterproof capabilities, generating a potentially lingering problem that might pass unnoticed for a while.
Hail causes similar problems to shingles. The granules on the surface help protect your home from rain and sun, and when hail knocks them loose, your property is at risk for roof water damage.
Clogged gutters cause standing water during heavy downpours. With nowhere else to go, the pooled water can back up underneath your shingles and leave you with a leaking roof.
Lastly, debris has the highest potential for roof storm damage, depending on the size of the projectiles. Properties near trees are especially susceptible to this form of roof storm damage. The worst instances of storm damage are related to roof punctures from large debris thrown against the roof by the storm.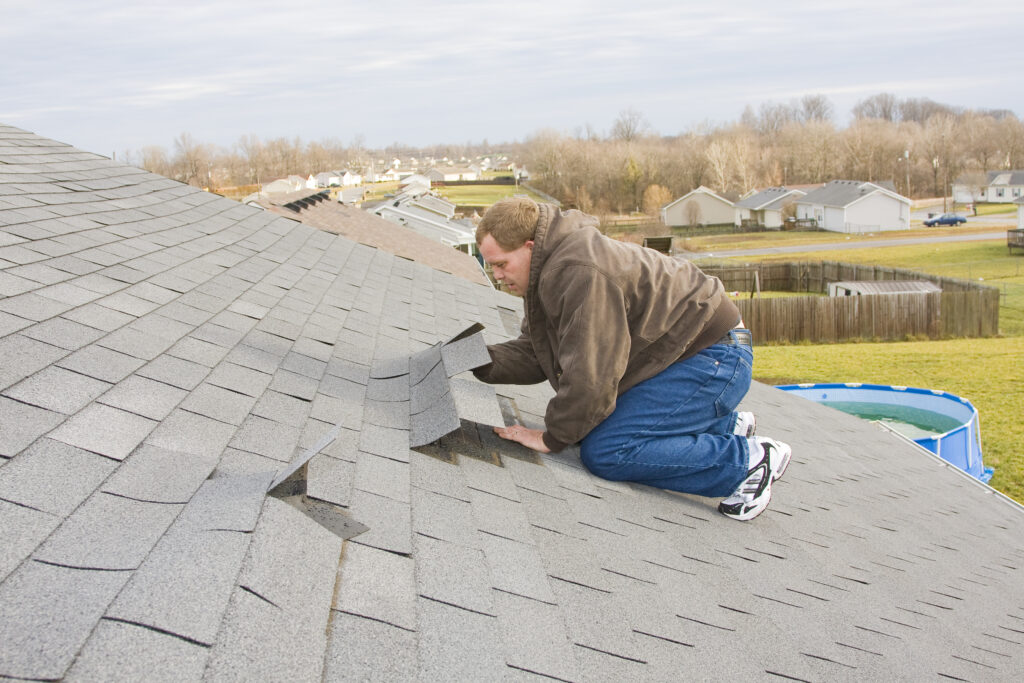 3 steps for roof storm damage
Follow the three steps of this roof storm damage guide, and you'll put yourself in an excellent position to get your life back to normal.
Roof inspection
There are two types of inspections: visual checks you can do yourself and professional inspections performed by a roofing contractor. Most professional roofing contractors offer free estimates or inspections and tell you what issues your roof has after storm damage.
When you think you have a case of roof storm damage, take a look at your roof yourself by walking around your property and noticing anything out of the ordinary. Don't forget about the gutters and vents! These might be cracked or displaced from the heavy storm.
Also, take a look at your roof from inside your attic. Look for any damp areas—these are where water enters the home.
Find a roofing contractor
If your initial visual inspection turns up any problem areas or questions, contact a professional roofing contractor about your storm damage. ER Contracting serves the greater Houston area and has years of experience dealing with all sizes of roof storm damage.
Even if your initial visual inspection doesn't turn up any problems, a professional roof inspection can offer peace of mind.
Your roofing contractor will perform their inspection, discovering any problems the roof has suffered because of the storm. Then, they'll be able to provide you with an estimate of repair or replacement costs.
Call your insurance provider
Once you know your property has roof storm damage, calling your insurance provider and starting the claims process becomes the number one priority. The claims process can be lengthy, and starting it as soon as possible helps with a quick turnaround.
Your insurance agent can tell you what evidence, documents, and pictures they need for your claim, as well as provide support through their network.
ER Contracting's roofing experts know the evidence needed in the claims process and can help you navigate your path to a repair or replaced roof after roof storm damage.
Filing an insurance claim as soon as you know about roof storm damage ensures you get your compensation as quickly as possible.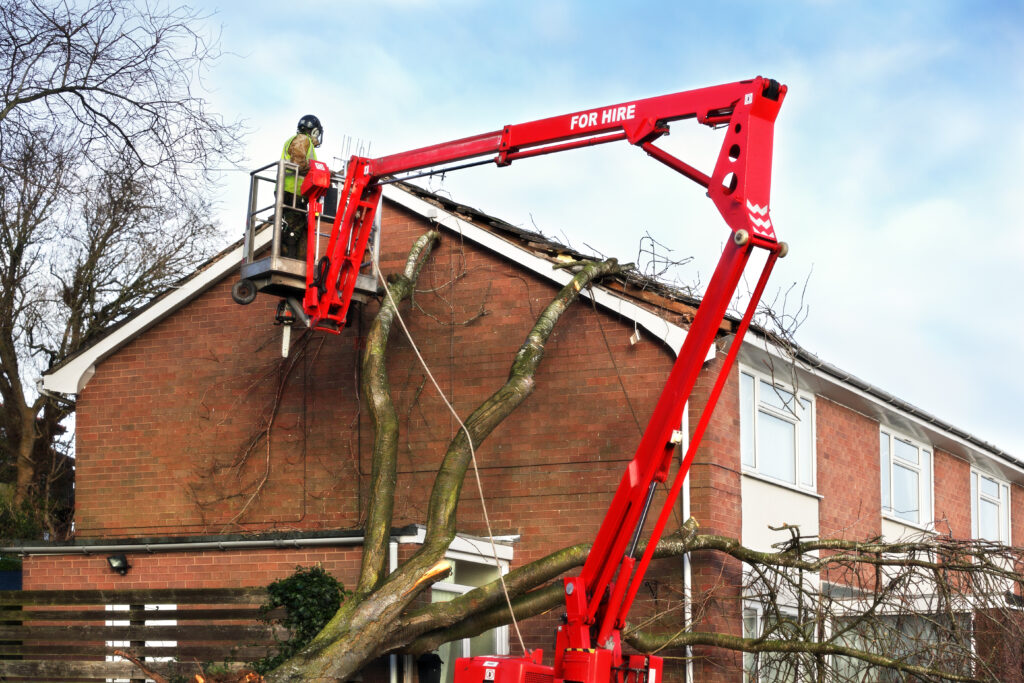 Dealing with roof storm damage in Houston
Everyone in the United States deals with the occasional storm. When inclement weather causes roof storm damage, following the above three steps will get your property back to the way it was before.
Wind, hail, high volumes of water, and debris can all cause havoc to a roofing system. After your visual inspection, contact a roofing contractor and have them assess the roof storm damage.
Once you know your home has roof storm damage, call your insurance agent and get the claims process started.
ER Contracting works closely with the residents of Houston, Texas, and the surrounding areas. Our team of roofing contractors is available to help with all your roofing needs, and we offer free estimates. Give us a call or reach out via our contact page, and we'll have one of our team inspect your roof storm damage before leaks become a more significant issue!