A kitchen remodeling contractor can bring new life to one of the most highly-trafficked parts of your home: the kitchen!
Whether you've lived in your home for years or are brand new to the house, ideas are bound to pop up about the optimal kitchen design. A kitchen remodeling contractor can turn these ideas into reality.
Alongside bathroom remodeling, a kitchen update is one of the most sought-after types of remodeling for homeowners.
This article will outline the areas of your kitchen ripe for a refresh by a kitchen remodeling contractor.
About Kitchen Remodeling
Kitchen technology and design have evolved over the years. The arrival of open floor plans and new appliance options has made many people question whether their kitchen is optimized for their future.
A new kitchen with updated appliances makes the room your own.
A kitchen remodeling contractor can help with your project, updating these five critical aspects of your kitchen.
5 Kitchen Areas You Can Remodel
Use the following list of areas in your kitchen you can remodel to spark your creative juices.
There are many options available within each section. Let this list be a primer, so you have an idea of what's possible.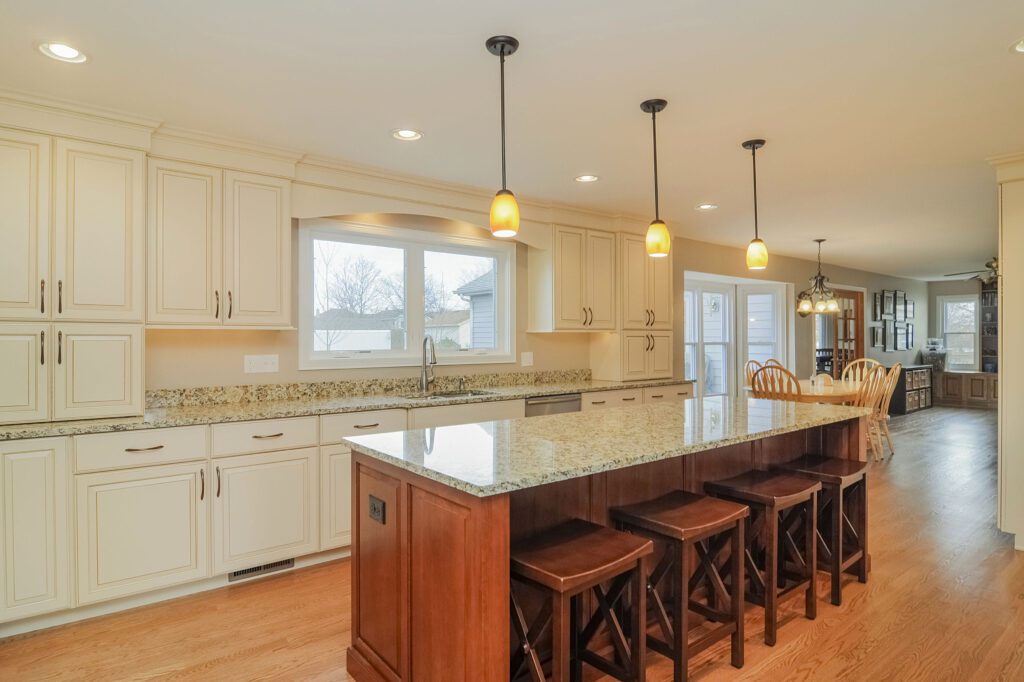 Cabinets
A cabinet refresh is the most drastic of the options a kitchen remodeling contractor can install in your home. Updated cabinets are striking in their appearance, giving an immediate impression of the updated space.
There are three options available for your cabinets: replacing, refacing, and redooring.
Replacing the cabinets is the most expensive option. Replacement is a full-scale installation of brand new cabinets. This option is perfect for unique spaces and cabinets that have suffered water damage in the past.
Refacing your cabinets is the process in which a kitchen remodeling contractor applies a thin veneer over your existing cabinets. Changing the appearance of your cabinets without changing the underlying structure is a fantastic way to update your kitchen without the costs associated with cabinet replacement.
Redooring is when the cabinet doors are swapped out for new ones, assuming the underlying structure is sound. Your kitchen cabinets will look and feel brand new!
Sinks
Selecting a new sink provides an excellent opportunity to put your mark on the space, depending on how you use it.
Professional-style sinks make cooking large meals easy and provide plenty of space for cleaning pots and pans.
The option of a single or double bowl for your kitchen sink makes a big difference for your preferred method of washing dishes. If you often wash your dishes by hand, consider a double bowl–one side for clean dishes, the other for dirty. A single bowl works well if you use a dishwasher most of the time.
One trendy option gaining popularity is the fully-integrated sink. This option is when your kitchen remodeling contractor runs the counter straight to the edge of the sink, with no edging or caulk.
There are many refurbished sink options available; an antique sink can serve as a centerpiece for your kitchen!
Plumbing
New plumbing is the unsung hero of kitchen remodels. New plumbing fixtures aren't immediately noticeable but can make a significant impact on your day to day cleaning and cooking tasks.
A new faucet can come with a hose or without, can include a hot water tap, have an attached soap dispenser, or deliver water with a laminar flow.
If you want to change your dishwasher or refrigerator location, altering the water lines is an increased cost. Your kitchen remodeling contractor can help you decide if the price is worth it!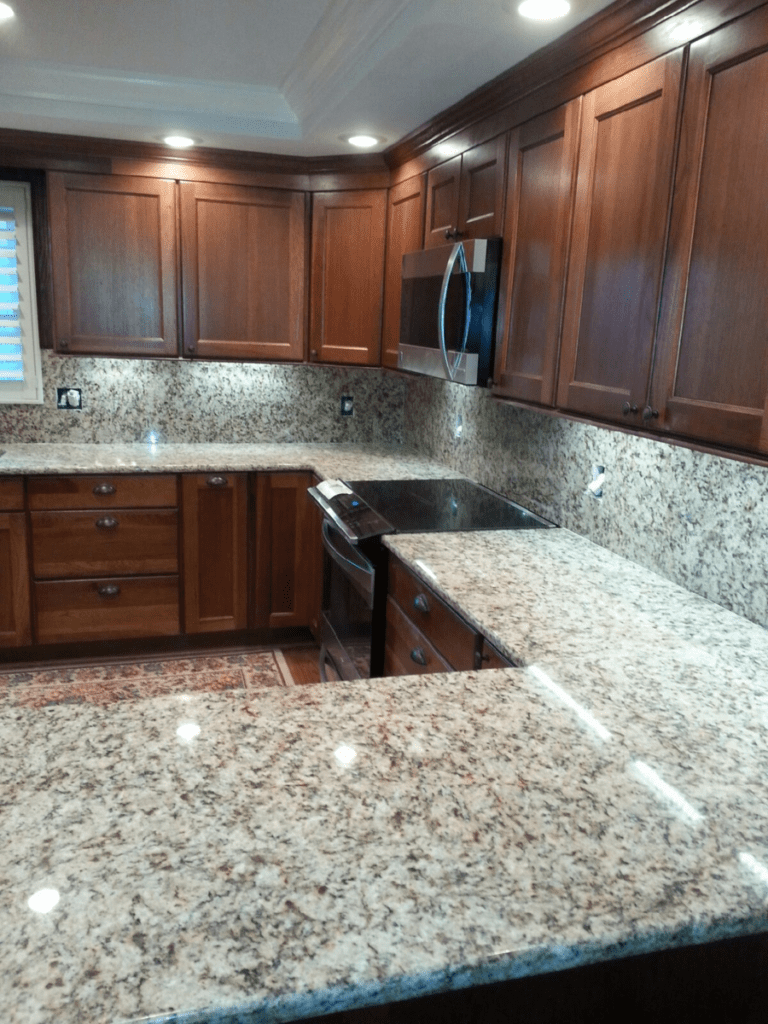 Countertops
New countertops come in a wide range of prices, colors, and materials. The choice of countertop often comes down to what fits into the overall budget.
Some common types include laminate, ceramic, granite, and butcher block. Remember, an island addition will need a countertop too!
Lighting
Lighting is the aspect of kitchen remodeling most people don't consider. People notice when there's not enough light but rarely appreciate a bright, well-lit space after a kitchen remodeling contractor puts their finishing touches on the project.
Under-cabinet lighting can make a big difference in visibility on your counters. In-cabinet lighting is an emerging trend that highlights the contents of your cabinets when combined with glass doors.
A new central fixture hanging from the ceiling can illuminate the space and provide a good talking point when hosting guests. Lights over a newly-installed island are a must and give you the chance to put your mark on the space.
How do I find a contractor to remodel my kitchen?
Finding a kitchen remodeling contractor involves a few steps and ensures quality when the dust settles.
Make a list of potential contractors
Research ratings and reviews
Receive estimates for your kitchen remodel project.
Sign a contract and plan a schedule
Is remodeling a kitchen worth it?
A kitchen remodel recovers many costs via an increase in home value.
In the short term, new appliances can save energy and water costs. An updated space can increase the efficiency of cooking and cleaning. The additional sense of well-being from being in a new kitchen can't be measured in dollars and cents but provides an added incentive for occupying a space you use every day.
What is the most expensive part of a kitchen remodel?
In general, the most expensive part of a kitchen remodel is the cabinets. Material costs can take up a large part of the overall budget, and the labor required by your kitchen remodeling contractor is often the most expensive labor on the list.
The second most expensive part of a kitchen remodel is the countertops due to the associated high material costs.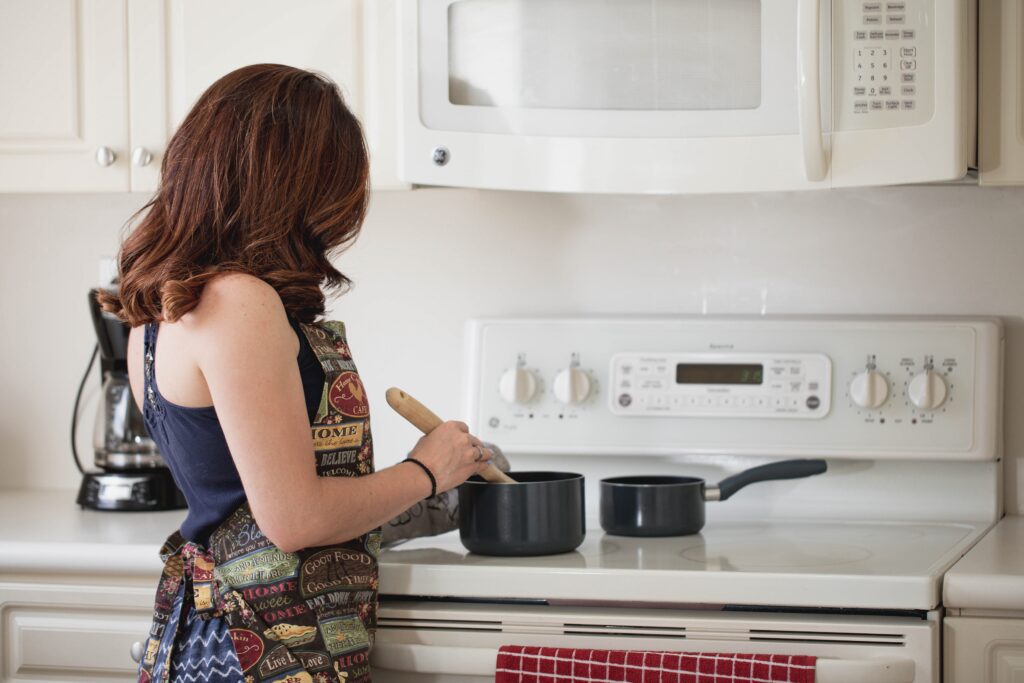 Reasons For A Kitchen Remodel
There are several reasons to pull the trigger on your kitchen remodel. An updated space provides room for growing families and gives you a central location for hosting friends and family on special occasions.
The most important reason to contact a kitchen remodeling contractor and going through with a remodel? The increase in your home's value.
A remodel can fit into any budget, and the added property value recovers many of these costs. A kitchen remodel is an investment in your temporary well-being and a long-term addition to the value of your home.
Kitchen Remodeling Contractor In Houston
Getting a kitchen remodel is an exciting opportunity for those ready for the investment. Cooking, cleaning, and gathering in one of the home's most used rooms turns into a personalized experience, filled with handpicked options based on your particular needs.
ER Contracting has the perfect kitchen remodeling contractor for those living in Houston, Texas, and the surrounding suburbs. If you are interested in updating your home's gathering place, reach out via our contact page and schedule your free estimate!