Take a look at some of the most popular fireplace remodel ideas on the market today and decide if these might be right for you!
The fireplace is a central part of whatever room it occupies. If your fireplace is old or worn out, a fireplace remodel is a perfect way to enhance your space by refreshing this central aspect. Let this list of fireplace remodel ideas be your simple guide to the numerous options available.
Fireplace remodels fall into two broad categories: fireplace refacing and fireplace replacing. Refacing is cheaper and deals with the fireplace's exterior. Replacing is more expensive and could require the addition of a chimney or gas line.
This article will dive into some of the most popular fireplace remodel ideas. Hopefully, these provide some inspiration!
Fireplace remodeling
Some common signs your fireplace has seen better days are a dulling or discoloration of the surrounding walls, cracked bricks inside the firebox, or outdated mantles and decor.
A refresh of the exterior could be the dose of life that brings your space back to life. Plus, a fireplace remodel enhances your home's value!
There are numerous options available. This list of fireplace remodel ideas is some of the most common ER Contracting's fireplace remodel team sees in the Houston area.
Fireplace remodeling ideas
This list is for those who know your current fireplace isn't working for your aesthetic and want something different.
There are four main types of fireplace remodel ideas:
New mantle
Floor to ceiling stone or tile
Firebox construction
New bricks
Change in fuel type
Let's take a look at each.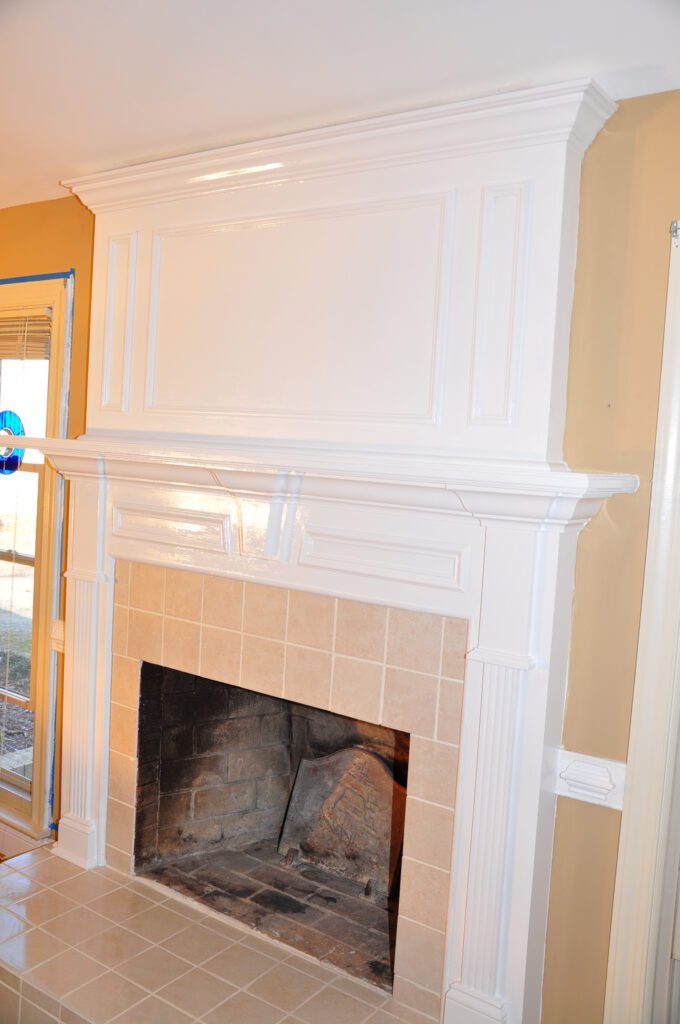 New mantle
The mantle is the shelf just above the fireplace and surrounding decoration. They are a common sight of both wood and gas fireplaces, bringing forth memories of hanging stockings at Christmas.
A new mantle can provide warmth and decoration to the room. It can be decorative, with lots of patterns and adornments, or simple, with just a bare shelf reflecting a minimal decor.
One of the best parts of a simple mantle update is the price. It's one of the least expensive fireplace remodel ideas, and installers spend minimal time in the home.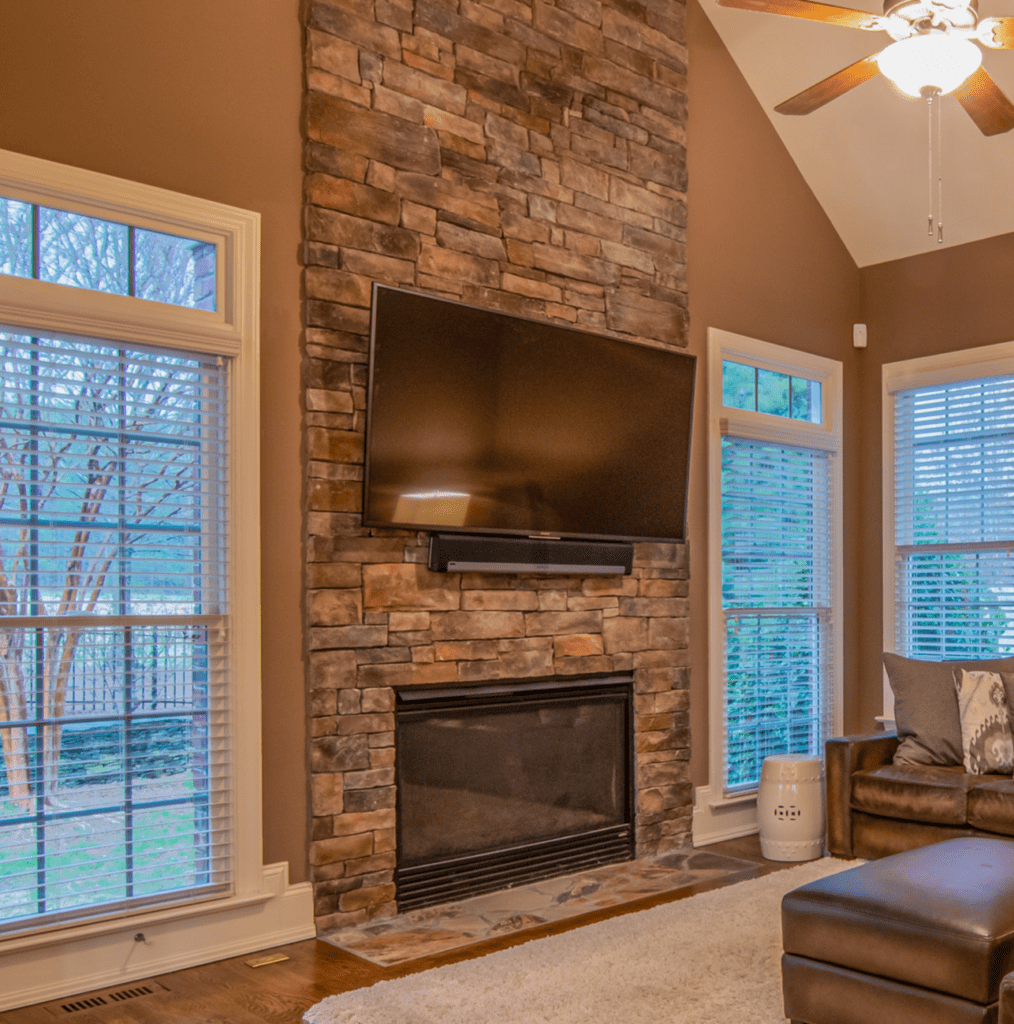 Floor to ceiling stone or tile
One of the hottest trends currently involves surrounding the fireplace with stone or tile from the floor to the ceiling. It creates a modern, minimalist look.
Think of an accent wall. This fireplace remodel idea is a similar situation but results in a more significant impact: the fireplace in the center serves as the anchor, drawing eyes to the updated space.
Stone and tile come in various colors, making this look available for anyone who doesn't mind losing the wall space above the fireplace itself.
Firebox construction
Whenever people imagine a fireplace, there are bricks in the firebox surrounding the flames. But did you know that it doesn't have to be the case?
You can line the firebox with tile or different colored bricks.
Gas fireplaces are an especially good option for different firebox materials since the surface won't become covered in soot after a fire. A clean, offwhite tile inside the firebox and black stone on the exterior wall: sounds like a winning combination!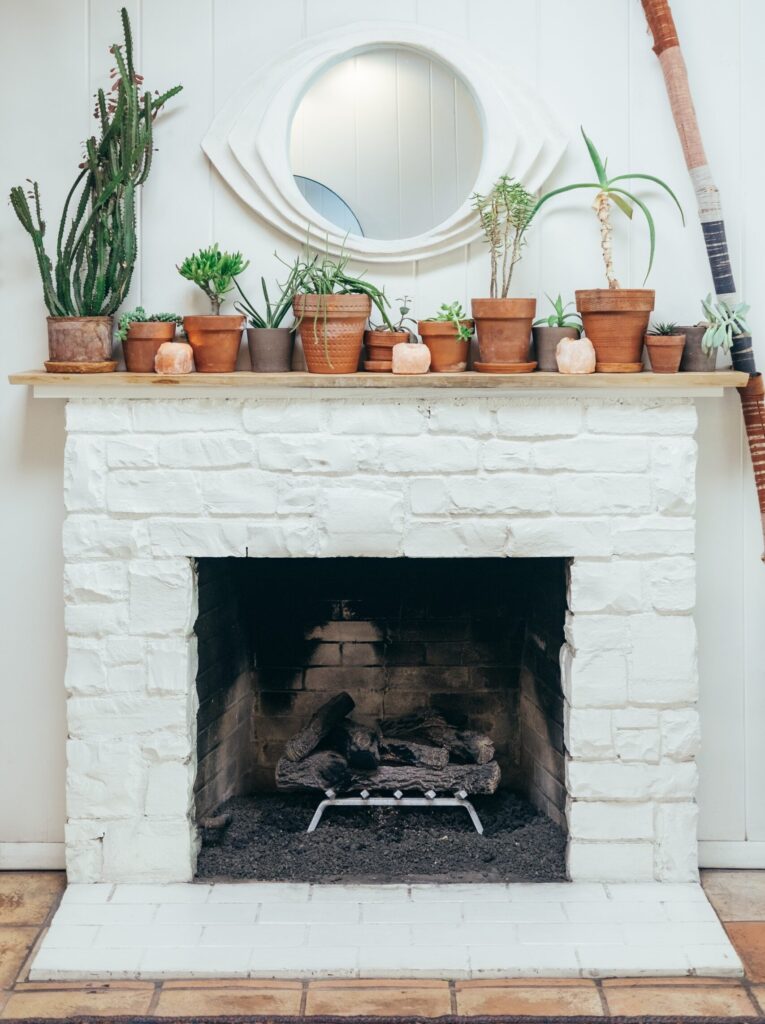 New bricks
While this option seems like the simplest of the fireplace remodel ideas, it provides the most flexibility.
There are bricks in every color imaginable: exposed brick, stained bricks which still show the red color, antique bricks, blue bricks, black bricks; you get the idea.
You can also use these bricks inside the firebox. A combination of different colored bricks inside the firebox and on the exterior wall could produce a fireplace unique to you!
Change in fuel type
This option is the only one of the fireplace remodel ideas on this list that involves a full-scale replacement.
The grass always seems greener on the other side: some people with gas fireplaces want the woodsmoke smell associated with wood fireplaces, and those with wood fireplaces desire the ease of lighting gas fireplaces!
Keep in mind, changing the fuel source will be more expensive than a simple exterior update. But when done in conjunction with an update to the wall space around the fireplace, this will still increase your home's value!
Do you need heat resistant paint for a fireplace?
Painting the walls around a fireplace requires special heat-resistant paint. If you use regular paint, it's only a matter of time until the painted surfaces lose their color or the paint begins flaking, or chipping, or cracking.
The underlying surface, either tile of brick, won't be at risk of underlying damage. It will be an aesthetic problem, not a structural one.
Does a fireplace add value to a house?
A fireplace adds value to a house. A remodeled fireplace adds even more value to a home and could even be a selling point!
Use the above list of fireplace remodel ideas for inspiration about what to do with your existing fireplace. There are lots of options available for any-sized budget. The limit is your imagination!
Fireplace remodel professionals
Whichever of these fireplace remodel ideas you decide is right for you, the first step in turning your dreams into reality is contacting a fireplace remodel professional.
They can help provide you with information about material and labor costs and use their experience to tell you about your selections' viability. Having completed fireplace remodels before, they know what works and what looks good!
ER Contracting is available for fireplace remodeling in the Houston, Texas area and surrounding suburbs. If you are interested in updating your room's centerpiece, reach out via our contact page and schedule your free estimate!