Don't let a flooded basement become your worst nightmare!
A flooded basement can be a disaster for any homeowner. Often, it's not just the water that causes problems but the mold that follows from an insufficient response.
Flooded basements can occur at any time of year. They're most common when excess rainwater causes flooding, but there are other common causes from inside your home that can leave you with a layer of water covering your lowest level's floor.
This article will outline some causes of the most intense flooded basements and give you four recovery steps for the next time you discover a flooded basement on your property!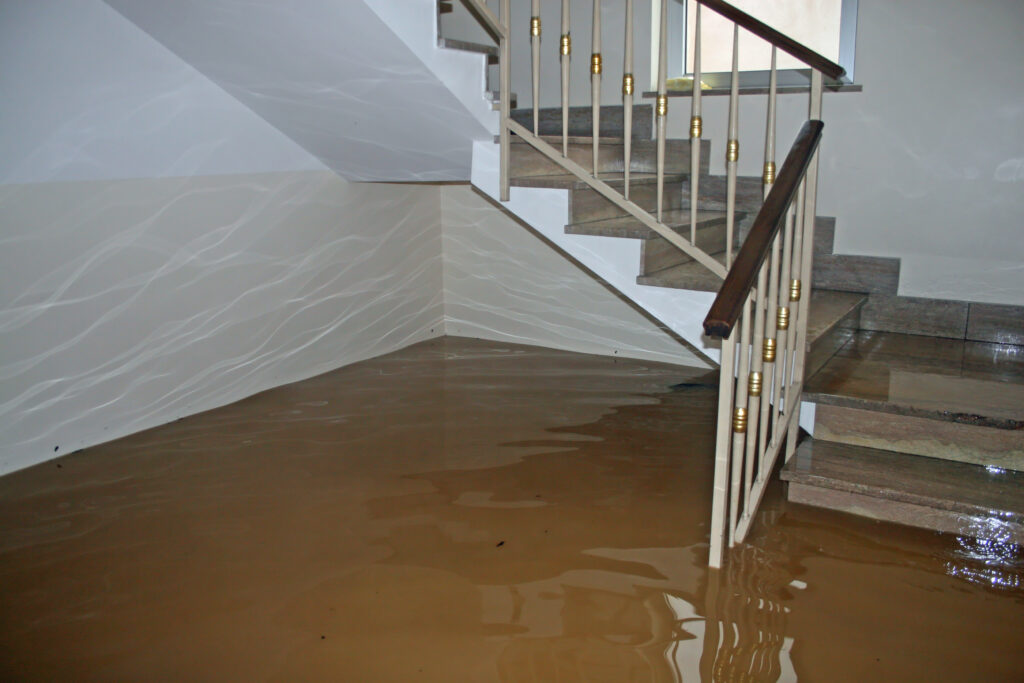 Flooded basement causes
The most common cause of flooding for basements is a large amount of rainwater. If it pours for days at a time, you may not be adequately prepared to handle the water coming from above your basement floor.
In Houston, many basements have sump pumps because of how often hurricanes pass through the area. Whenever these sump pumps fail, a basement flood soon follows.
Another hardware malfunction also leads to a particularly intense flooded basement: water heater failure. The massive amount of water released can leave a layer of standing water in your flooded basement that goes up to your ankles.
The last significant source of water that leads to a flooded basement is from common plumbing failures, like a burst or leaking pipe, a leaking waste line, or a broken hose for your washing machine.
4 steps for dealing with a flooded basement
Shut off the electricity whenever you discover you have a flooded basement. This first step prevents accidental electrocution and can save your home's electrical wiring.
After that, take these four steps for recovering from a flooded basement:
Prevent anyone without protective gear from entering
Remove contents
Extract the water
Apply antimicrobial
Since performing these steps is beyond the scope of most DIYers, we recommended that you hire a water damage restoration expert. If you live in the Houston, Texas area, ER Contracting can be there whenever disaster strikes!
Prevent anyone without protective gear from entering
The safety of the home's occupants is the first and primary concern. Be mindful of children and pets, making sure they stay far away from the flooded basement.
Anyone entering the flooded basement must have personal protective gear. In addition to the risk of electric shock, most water that floods basements hosts harmful bacteria.
Specialized suits and rubber boots help keep anyone entering the flooded basement safe while identifying the leak's cause and working towards recovery.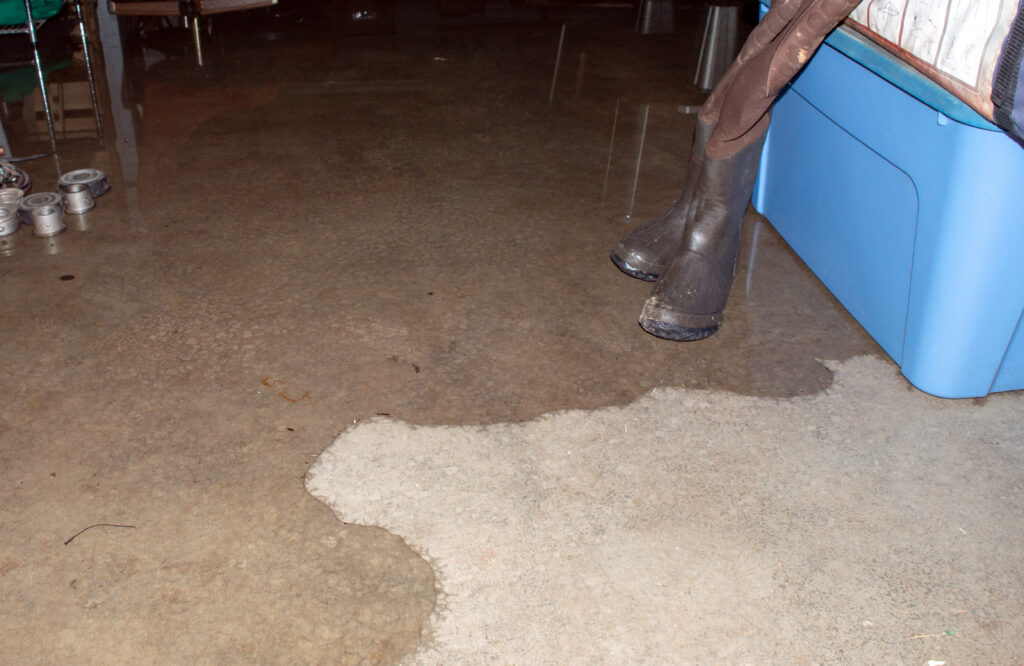 Remove contents
Take all of the wet contents and materials to another area of the property where they can dry out. If you have many physical objects, restoration companies can help take your belongings to an offsite location.
This step also includes removing water-damaged materials, such as flooring and affected drywall. Floods damage these items beyond repair, and if left in place, these can host mold growth.
Removing both the salvageable and unsalvageable items will help with the next step in the recovery process: water extraction.
Water extraction
There are two parts to the water extraction step for a basement flood: removing the standing water and drying out.
Removing the water involves pumping it out of the basement. This process can take a long time and is best left to professionals because water extraction pumps are expensive and require experienced personnel to handle them correctly.
Drying out the basement involves removing as much moisture from the area as possible (either with fans or dehumidifiers), which will help prevent mold growth in your basement.
Apply antimicrobial
Besides the actual material damage, there's one main concern for the ongoing health of everyone that frequents the property with a flooded basement: mold.
Applying an antimicrobial prevents mold growth. Additionally, it helps combat the bacteria introduced into the home by the water that flooded the basement in the first place.
After antimicrobial application, the basement contents can go back in—as long as they're dried out!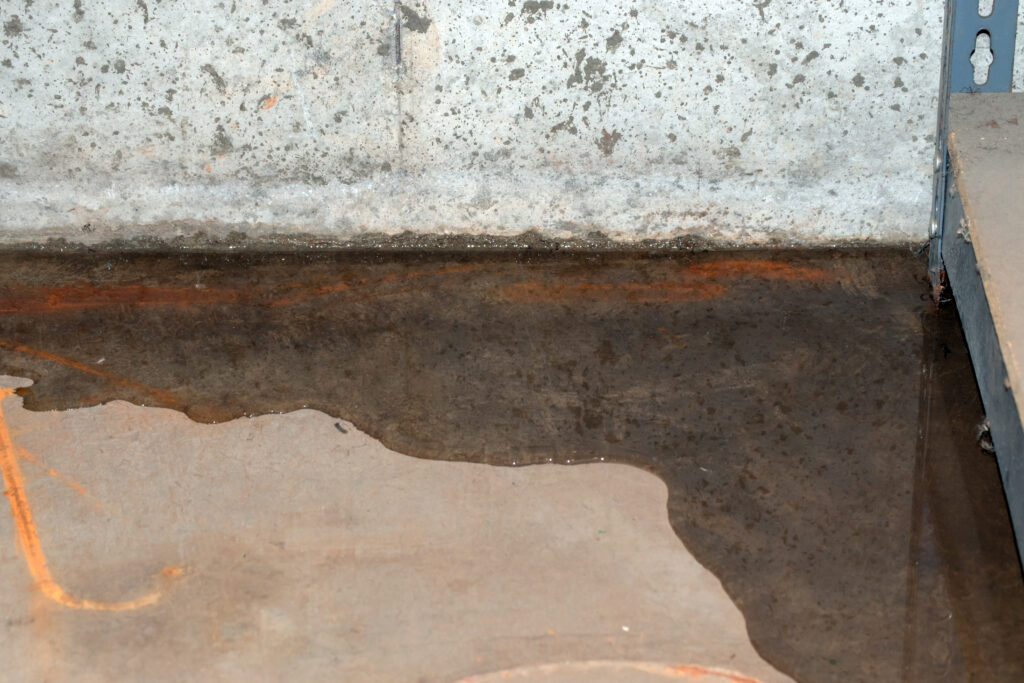 Flooded basement help in Houston, Texas
The simplified four-step process for recovering from a basement flood involves a lot of specialized gear and equipment—items most people don't have readily available. Because of the risk from electrical shock, mold, and harmful bacteria, we recommend contacting a water damage restoration expert whenever you find yourself with a flooded basement.
Whether a broken sump pump, water heater, or generic plumbing issue caused your flooded basement, ER Contracting is here for those in the Houston, Texas area. Our water removal experts are ready for your call—let us help you get your home back to the way it was before the flood disaster.
Give us a call today or reach out via our contact page, and one of our water damage professionals will help you with your flooded basement!